President in Your Pocket
Now, you can have information on over 100 of President Barack Obama's top administration officials and their key deputies right in your pocket. The application is available in iTunes for $4.99 for a limited time, keeping you updated for one full year. PresidentPro for BlackBerry ($9.99) also keeps you updated for one full year and adds access from any computer or mobile phone with an Internet browser.
PRESIDENT offers all of the vital information you need to be an active and effective citizen. Learn all about who leads and manages the most important executive branch departments, agencies, counsels, and offices. If you want to reach a member of President Obama's team, this is the place to start.
Oh, My, Gov!, a highly-respected federal employee blog, thinks it's better than the official White House iPhone application. Macworld calls it, "an extensive database packed with information on White House staffers, cabinet secretaries, and other members of the Executive branch." In addition to the screenshots below, there are several more here.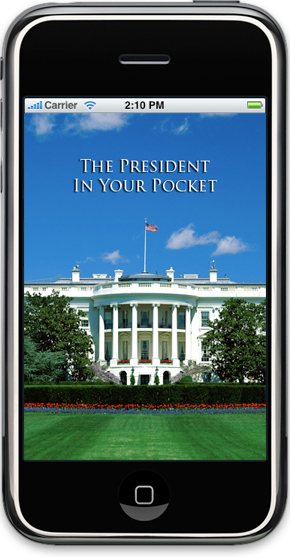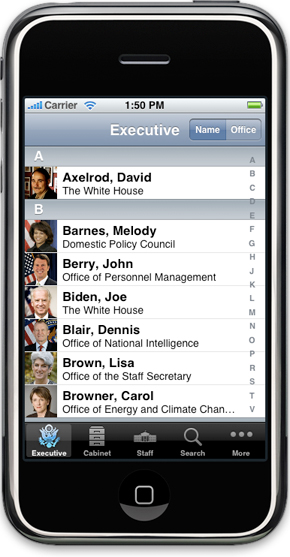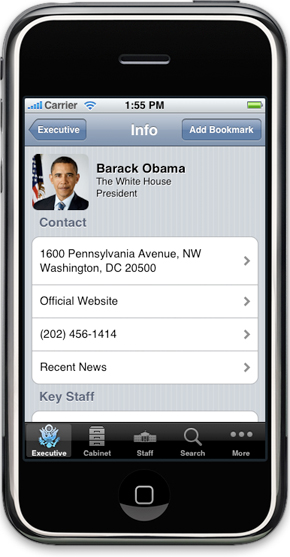 Search for the administration official you want to contact and then call, email, or post feedback to their web forms. Visiting Washington, DC? Tap on any address and get directions using Google maps. Want to follow legislation or follow the money? Visit the "More" section and search for the bills you want to track and see how much the president raised for his 2008 campaign.
The application includes bookmarks you assign, a link to the THOMAS congressional bill information system, a special tab for new members of the administration, a direct link to the president's OpenSecrets page, an iPhone-friendly news link to Politico, our Twitter feed and blog, polls on issues, user feedback, FAQ, and the ability to email us updates on administration officials.
INCLUDED INFORMATION
Full name

Color photo

Name of the department, agency or office

Position held

Mailing address with link to a Google map

Official website

Telephone number

Email address or web contact form

Recent news

Key staff names

Short biography